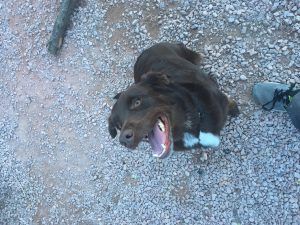 "I Knew I Made The Right Decision For Him And My Family."
I met Susan through a mutual friend. I was looking for a new home for my boy Charlie, a decision I did not take lightly. Though he was an awesome dog, he needed some fine tuning and as a single Mom I simply didn't have the time or the tools and knew he deserved better. Fast forward to a conversation with Susan- I knew Charlie was a brilliant dog and he was my kid my boy I just didn't have the tools to get him to where I would trust he wasn't going to plow my child over when he got so excited in the back yard or getting him to relax when someone new came into my house. Susan took the time and explained to me why he was doing what he was doing and how with little corrections he could be the Charlie Brown I knew he could be. I decided to move in a different direction and instead of finding him a new home I sent him up for training. After having him for a week I heard was "this is the best dog". I got pictures of him in home depot and on hikes and I knew I made the right decision for him and my family. Upon completion of his time with Susan, she brought him back to me and worked with he and I one on one until I was comfortable with what he had learned. I have a completely different dog. I won't lie and say he's 100% but I know that with the tools she has given both him and me that he will be. I know that any slip-ups aren't from him not knowing, but me not going back to his training. He comes to my work, lays around in my office and when people come in he sits and loves getting petted. Sending Charlie to Susan really was the best decision and I would recommend her and her training in a heartbeat!
D. Britton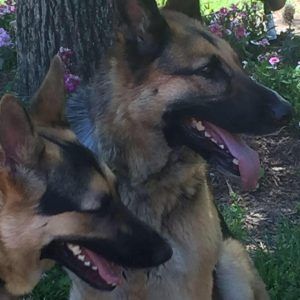 "Why Susan? Because She Truly Cares!"
Why Susan? Because she truly cares! We had her work on our female German Shepherd pup when she was around 11 months old, this dog was a maniac in a silly way. Susan had her for two weeks and we were amazed by the dog we got back !!! Dakota is 2 1/2 now and we love to take her out and show off how well behaved she is. People stop us all the time just to say 'they can't believe how well behaved she is. We just got our second GS from Susan and Dexter is amazing. Best trainer "Ever" and she's always there for you!
Sheree Morris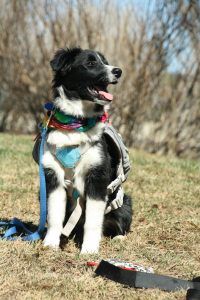 "We Are So Grateful We Found S. Miley Dog Training And Rehabilitation."
After much searching, I was so happy to come across Susan Miley's dog training facility for our Border collie Puppy. At 4 months he had already become difficult to walk because of his fascination with cars. I searched online and was confronted again and again with the understanding that this was a behavior that professionals were best equipped to deal with, and the younger the better.
We sent our puppy, Arlo, to spend 5 days training with Susan. When she returned him to our home, she taught us everything she had worked on with him. He is still a squirrelly puppy, but he can be walked along the side of a road or highway without pulling at cars. He will sit and watch cars without anxiety. Our job is following through on everything that Susan started, and she set us up very well to do just that.
We are so grateful we found S. Miley Dog Training and Rehabilitation. I have already recommended Susan to several friends and will continue to do so, since she is truly wonderful with the dogs and their owners.
Cathy Lewis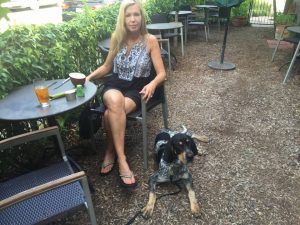 "Part Of Daily Life"
Look what Roscoe can do!! Before he learned to be calm he could not have done this!! Now he can be included owners daily life!
Greg DeLong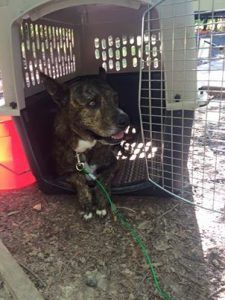 "What A Good Dog!"
Max knows there is a little chihuahua mix at the site next to ours. He is being so good in an extended down in his open kennel while we play ladder ball even though the dog is barking at us. What a good dog!
Debbie Mechling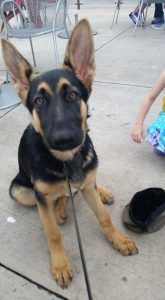 "Perfect Dog Now"
She's been laying like this for a while now and we could never get her to just relax before lol, I have a perfect dog now. Thank you Susan for everything, you too are a miracle worker, we see such a huge difference in Dakota "wow" we loved her when she was a maniac but now we love and enjoy her so much more now that she knows it's ok to calm down . Thank you again and we will keep working on the wonderful things you've thought her.
Sheree Morris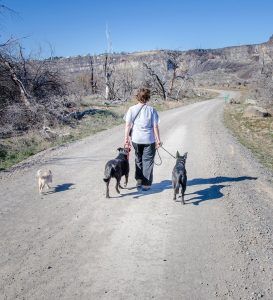 "I Can Walk All 3 At Once"
Before I could not walk my dogs all together and getting them in and out of the truck for hikes was insanity. Now, my dogs calmly enter the truck and quietly exit. I can walk all 3 at once!
Theresa Hyndman
"Saved Our Girl!"
Blue doesn't rush the doors any more or snarl when we are putting her into the crate!! Thank you Susan for saving our girl.
Kristi Lewis
"Helps So Many People"
I had the pleasure of meeting Susan in Cali Feb 2014 at DPC. I also have had the opportunity to see how she has taken what she learned and turned it into something beautiful that helps so many people. Keep going Susan.
Tami Truex
"Pack Leader"
Susan did an amazing job helping me to become a better pack leader! She took the time to show me proper techniques for walking my pack, 'owning' my doors, proper discipline and creating a calm environment. The tools she gave me have helped create harmony in our house. Seriously the best trainer I have ever worked with.
Sarah Ihler
"He Is Very Happy"
When someone comes over Abbott goes to the door to see who is there…then automatically puts himself on place!! I think he is very happy. He used to be so fearful. Tonight he stayed in place in the front yard while I watered all the flowers and bushes.
Lynn Forte
"We Are Really Impressed"
We are really impressed with the change in Max. He's a whole new dog!! He was a pleasure to be around last night and today so far. He had one long walk with Sheila and performed well. I can walk my dogs now!!! Together!!!
John Murtaugh
"Amazing Trainer!"
Amazing trainer! Listen, Do and Learn. She knows her talent and can make you and your animal successful!
Jessica Lanting